Simply put, a computer's graphics processing unit (GPU) is there to make graphics look good. Its purpose is to render the 3D visual images being processed by a PC to then bring them to life on a 2D screen. Heavily relied upon by both the gaming and the audio-visual industry, graphics can be critical to any creative project.
Over the last decade or so, significant steps have been taken towards helping graphics produce a higher degree of visual realism. One such step is ray tracing, which allows artists to work with light in order to achieve this. While this technique isn't by any means new, its gradual introduction into the mainstream combined with its revolutionary rendering capabilities has propelled it into popularity in recent years.
What is ray tracing?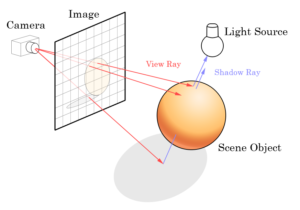 Ray tracing is a graphics rendering technique that traces rays of light and simulates how that light interacts with different objects. Using ray tracing, it is possible to achieve truly life-like imitations of how light and shadows behave within a digital scene, as it calculates this behaviour much like the human eye is able to. The difficulty is, because ray tracing is so advanced, it's exceedingly compute-heavy and can be expensive to power.
Thankfully, consumer-grade ray tracing is slowly gaining traction, and reduces this load drastically. It works by tracking the path of light from what is essentially a virtual camera through individual pixels to the object sat behind those pixels, and back to the light source. It can even go so far as to account for light that is absorbed by objects within a scene and creates shadows to represent this change.
Why does it matter?
Because the quality of graphics is increasing by the day, it's essential to be able to render those graphics as accurately as possible. That goes for anything from the CGI used in film-making right down to the graphics-intensive apps you use every day. Before ray tracing came along, a process called "rasterization" was widely used to render scenes using polygons and shaders. However, because the behaviour of light and the way it travels is so hard to track, rasterization wasn't sophisticated enough to achieve the degree of realism that ray tracing can. Ray tracing has massively accelerated what's possible from visual rendering and enabled graphics to become more life-like than ever before.
Choose rack mount for ray tracing
For a long time, ray tracing has only been supported by NVIDIA graphics cards, however AMD have very recently entered the race with the RX 6800 XT, their very first ray tracing enabled GPU. In addition to already hosting several NVIDIA cards within our product range, we recently revealed that their new RTX 30 series of GPUs is now available in selected models of our rack mount PCs. This series offers considerable performance improvements for ray tracing among a host of other benefits. Combined with the compact size and high-performance of our rack mount PCs, you'll realise the full value of ray tracing's rendering capabilities.
If you would like to learn more about ray tracing or find out how you can harness NVIDIA's RTX 30 series in our rack mount products, please get in touch.